About Hartley Press
From our humble roots as a small local printer focusing on one-color stationery and business forms, The Hartley Press has grown into a full-service printing provider employing 85 professionals and serving customers throughout the southeast.
Our client list includes a number of top regional and national customers. Yet whether your business is large or small, you'll receive the same commitment to quality and customer service.
Whether your needs include corporate identity materials to a full-color brochure, direct mail pieces, catalogues, annual reports, magazines or packaging, The Hartley Press can deliver your vision in print. We're consistently training our professionals and upgrading our equipment to give you the best-finished product available.
And unlike many other printers, we produce all of our products in-house. All pre-press work, printing, embossing, foil stamping, die-cutting, speciality coatings, speciality bindings and packaging are performed in our Jacksonville plant. Fulfilment is also available. So instead of the printer "piecing out" processes that they don't provide, we can do it all under one roof. And that saves you time, money and frustration, and we have complete control of quality and deadlines.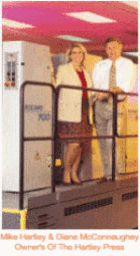 Our Mission
To exceed client expectations by providing the highest-quality product possible in a timely manner. We create long-lasting, prosperous relationships with our clients in order to help them reach their goals and objectives.